Mr. Pankaj Chakraborty
Assam
Four months back I went to see a Gastroenterologist as I was not feeling well. He asked me to do certain liver tests. After the tests, it was found that I had grade 3 fatty liver and early stage of cirrhosis. I was worried as I knew that if it becomes cirrhosis it will lead to problem. The doctor told me that there is no treatment in allopathic but that I should lookup for something called Kamalahar on net. I searched for it and found out about the product and the company. I also went through some of the testimonials. I ordered the product and started taking it. After 4 weeks of taking Kamalahar I did the tests again and found out that the parameters of SGPT, SGOT, etc are in normal range. My jaundice was also gone and I am not feeling fatigue any more. I am thankful for the product and the company.
I had fatty liver. I did many things including exercise but it had no effect. After taking Kamalahar for 6 months my liver is back to normal. Along with Kamalahar I followed diet control i.e. no red meat. I also exercised daily.
Mr. Yatin Shah
Mount Abu, Rajasthan
I am 70 years old and have undergone many surgeries over the years. But I am fit through Yoga. I have been suffering from Fatty Liver for 25 years. I came to know through Kamalahar and requested half a course. Once I started taking Kamalahar I started feeling hungry again and felt that my spirit is coming back. I finished 6 months of medicine and requested another 6 months of medicine. I am fully recovered. I am happy with the tablets.
Mr. Yatin Shah,
Mount Abu, Rajasthan,
India.
Cell +919929544724
Mr. Durga Prasad
West Bengal
I am 45 years old. I was diagnosed with fatty liver. My Liver size was 17 cm which was bigger than normal. My liver is normal now and I am feeling better than before. I have also recommended it to many other people.
I had grade 1 fatty liver. I consulted many physicians but they said there is nothing they can do as there is no treatment in allopathic medicine. But after taking 3 months of Kamalahar I was quite surprised and happy that I have been fully cured.
Mr. M L Chaudhuri Retired Inspector General
Delhi
Dr. Soumen Ghosh
San Jose, California
A couple of years ago, my blood profile showed high levels of liver enzymes like ALT and AST, indication of fatty liver. My doctor told me that there was no medication but for reducing my weight. I heard good things about Kamalahar from my mother-in-law and I decided taking two capsules per day for three months. I was also simultaneously reducing my weight. With the help of Kamalahar, my blood profile became better and brought ALT/AST level down to normal range.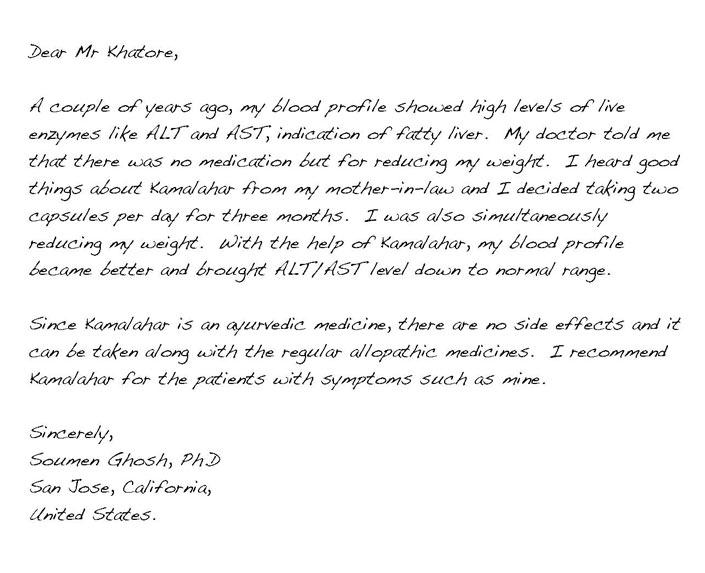 Mr. Rana Bandyopadhyay
Kolkata, West Bengal
I was suffering from fatty liver for the past two and half years. I took Kamalahar for 6 months. After taking Kamalahar for 6 months I saw a miraculous improvement in my condition and I am almost cured from the fatty liver.
Mr. Colonel Nagesh Retd Army Officer
Coorg, Karnataka
I had fatty liver. I took Kamalahar for 1 year and after taking Kamalahar for 1 year I am completely cured.
Mr. Balan
Toronto, Canada
I had grade 1 fatty liver. After taking Kamalahar for few months my liver is back to normal.
Mr. Rupesh Pandey, Australia
I was suffering from NAFLD stage 4 Liver fibrosis. One of my friend recommended to take Kamalahar. I went through online and explored, I also saw the Clinical - Trials and the testimonials from many patients from different parts who had recovered with Kamalahar. I made phone call to the customer care and talked to Mr. Vijay. He explained me the kamalahar medicine details. I ordered this medicine online and started taking it . After 3 months of taking Kamalahar I did the LFT tests and was very delighted to find all in normal range.My doctors were surprised to see significant changes. I then recommended to my own sister and one of my friend who have similar Liver problems, they are also taking Kamalahar now. I am grateful for to Khatore pharmaceuticals, India for coming up with a unique medicine called Kamalahar and help me with my treatment. I appreciate their efforts and strongly recommend Kamalahar to all who may be suffering from such liver problems. Thanks.
Md Kaiser Alam
Ranchi,india
My name is Kaiser Alam. I am from Ranchi. I am about 60 years of age. I have maintsined a healthy lifestyle. No medicine needed. Once I went for a health check-up. Some scars were found in my liver. Platelletes were slightly down. The doctors referred me to a Gastro-enterolist. After tests he informed that that my liver is effected due to non-alcoholic fatty liver, it may develop into cirrhosis which will be irreversable. He said it can not be cured but status-quo may be maintained. I was fine but my wife got worried, how can a man be effected without any vices like alcohol etc.
Meanwhile, we met a gentleman in a train journey. After hearing our problem, he asked his driver(who was to pick them up at the railway station) to get the medicine. That was KAMALAHAR. The gentleman did not even accept money. He said this is going to help but not harm you. If it helps you can get it from Barbil. I am using it for over 5 or 6 years now. My liver is now stable, no further deterioration. I take 2 capsules 3 times a day. I get tested regularly. I appeal to all who are hearing/reading me to use KAMALAHAR. Nothing better is available. Thanks.
Md Kaiser Alam,
Ranchi,
India.
Cell +919833450107
Mr. Dinesh Bindal
Ahemdabad, Gujarat
I am a diabetic from almost 25 years. I was suffering from fatty liver. I took Kamalahar to cure my fatty liver. I am also recommending it to other people that I know who are suffering from liver problems.