Fatty Liver
Testimonials
I had fatty liver. I did many things including exercise but it had no effect. After taking Kamalahar for 6 months my liver is back to normal. Along with Kamalahar I followed diet control i.e. no red meat. I also exercised daily.
Mr. Moithutty
I am a diabetic from almost 25 years. I was suffering from fatty liver. I took Kamalahar to cure my fatty liver. I am also recommending it to other people that I know who are suffering from liver problems.
Mr. Dinesh Bindal
I had grade 1 fatty liver. I consulted many physicians but they said there is nothing they can do as there is no treatment in allopathic medicine. But after taking 3 months of Kamalahar I was quite surprised and happy that I have been fully cured.
Ms. Sonia Puri
A couple of years ago, my blood profile showed high levels of liver enzymes like ALT and AST, indication of fatty liver. My doctor told me that there was no medication but for reducing my weight. I heard good things about Kamalahar from my mother-in-law and I decided taking two capsules per day for three months. I was also simultaneously reducing my weight. With the help of Kamalahar, my blood profile became better and brought ALT/AST level down to normal range.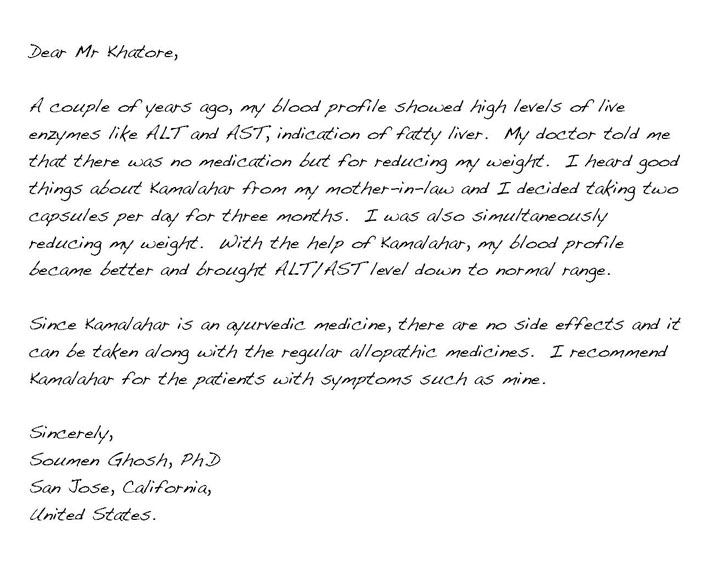 Dr. Soumen Ghosh